The following is a guest post from Dianna Kennedy
Kids are naturally drawn to the kitchen.
It's the center of your home, with loads of action, and full of delicious treats.
Inevitably, when I start cooking, no matter if it's oatmeal for breakfast or lasagna for dinner, my kids clamor, "Can I help?"
No doubt, it's a lot faster when I'm flying solo in the kitchen, but letting your kids join in the process is a definite recipe for fun.
Here are my best tips for sharing the kitchen duty while keeping your sanity.
1. Take a Chill Pill, Mom.
Trust me, I KNOW.
I'm the mother of five and I know that having many little cooks in the kitchen can double your prep time and multiply the mess.
Deep breath.
Cooking with your children opens up so many doors:
children learn by watching
science and math lessons abound in the kitchen
you're fostering a sense of independence and self worth
have a teenager? Cooking together offers a chance to connect and have real conversation
you are making memories that will last a lifetime
2. Play it Safe
Establish a set of kitchen rules from the get-go. My kids know not to ever touch the oven, stovetop or the pizza stone. How did we teach these rules?
Lots of repetition along with a few mishaps along the way. My son Adam has been burned (literally) a few times by grabbing the hot pizza stone or reaching in the oven despite being reminded otherwise.
Keep a first aid kit on hand and remind your kids constantly. We start out when they are very small by signing and saying, "HOT!" whenever we are working with the stove or other items that can burn.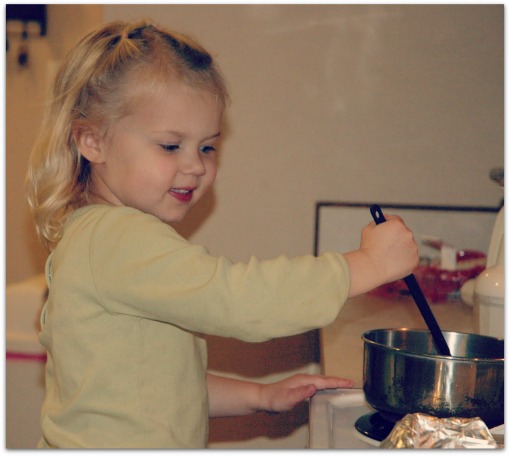 If they are working with the stove, we stay right beside them. Here, Rachel is stirring cranberries while I watch.
3. Get Started Early
Believe it or not, kids can help in the kitchen from a very young age. Children as young as three years old can help wash vegetables, rinse beans, or get out safe silverware for dinner.
Our newest baby even hangs out with us in a carrier while my husband and I cook.
Let your little ones watch what you're doing from a learning tower. (These will grow with your child, too!)
4. Dress the Part
Want to spark your little ones desire to be a chef? Let them dress the part in a kid's apron. Wearing an apron gets them in the mood to help out and makes them feel a part of the process.
Don't have a kid's apron? No worries. My kids just take over mine. (can't see the video? Check it out on You Tube.)
5. Take Them Shopping
Before you start cooking, you'll need ingredients.
Take your little ones to the grocery store and take your time. Show them the vegetables. Tell them WHY you don't pile your cart full of sodas and potato chips. Explain how you start with tomatoes and end up with chili.
Give them their own list and let them help you collect their supplies.
6. Age Appropriate Activities
A three year old can't bake a souffle on his own, but he can learn how to help you break the eggs.
For the preschool set, there are plenty of fun tasks that not only get them involved, but help them learn other important skills.
rinsing beans (all my kids love playing in water)
using a mixer with assistance
helping set the table
help to load/unload the dishwasher
fill muffin tins with batter
7. Let Your Children Choose
Does the thought of your child cracking eggs give you hives?
Why not let them choose the meal? It can be as simple as giving them two choices, or showing them a variety of meals.
My six year old daughter knows about Pinterest and has perused my Simple Recipes board, telling me what she'd like to tackle together.
8. Give Them The Right Equipment
In my house, we have kid sized kitchen tools from Curious Chef.
I store them in a container away from my own kitchen tools so that they are easy to grab and go. The kids feel special, because they have their own equipment, and I can rest easy that they're not going to try to grab one of my knives.
9. Service with a Smile
In my family, serving delicious meals is a gift and a way to show others how much we care. We head to family dinners, always taking our best dishes. For the next family get together, sit down with your little ones and find a selection where they can be the star.
Let them help you prepare as much as possible and then watch their faces shine when you take their creation to share with your loved ones.
10. Record Your Efforts
Hand your husband the camera or video to record these moments with your children. You'll look back years from now and cherish them.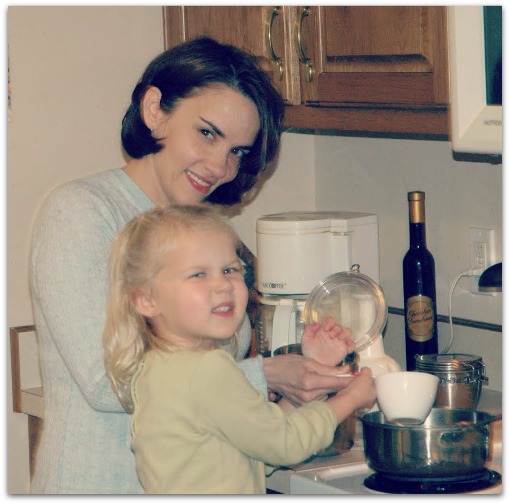 Do you have tips for involving kids in the kitchen? Be sure and leave your thoughts in the comment box!
Dianna is the mother of five, ranging in age from an infant to a high school senior. You can find her writing at The Kennedy Adventures, where she chronicles her adventures in homeschooling, living her Catholic faith, trying to stay fit, all while managing a large family. You can connect with her on Twitter, find her on Facebook, pick through her Pinterest boards and get together with her on Google +.
This post contains affiliate links – thank you for your support.
Plan ALL the meals!
The Simplified Pantry menu plans make it easy! Menu planning shouldn't require magic to make everything come together. Find out how quick and simple menu planning can be with the Simplified Pantry system – get started for free!