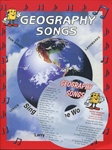 Geography Songs are catchy little ditties to help you memorize the continents, oceans, planets (Pluto is still a planet in the song), countries of each continent (most have several songs, dividing the countries up by region), and all 50 states (but not capitals).
The book that comes with the CD has the lyrics and maps (printed, not blank) so you can follow along.
A couple times a week we would listen and try singing along to the songs (we did approximately one continent per 6-week term), sometimes looking at the map and sometimes just listening and singing as the kids colored country coloring pages.
This program is great for exposure to names and countries. Like practically any memory work set to music, the tunes quickly become annoying, but that's just part of the gig. Annoying memory songs seem to be effective.
Exodus Books has a more thorough description, more reviews, and even samples of the songs. Check it out!