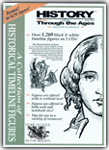 These are beautiful timeline drawings, and the CD collection is extremely versatile. The categorization and ordering of the files makes them easy to find and use and the different sizes and options (with or without the descriptive text) available makes them a flexible resource. You can even print an image in a full-sheet size and use it as a coloring sheet!
Two years we had two timelines: one for our Bible curriculum (OT survey) and our history readings (American). I taped a length of receipt tape to the wall, marked each century, then we tape a cut-out figure above or below the line as we go. The figures include the OT prophets, the divided kingdom and the exiles, and every other OT person and event we've looked for so far. Last year we did a timeline on a presentation board. I printed out all the figures at the beginning of the year and put them in envelopes marked for every 500 years. Full disclosure: We only made it to Christ on the timeline. This year we aren't doing a timeline or book of centuries; I knew it wouldn't get completed. But I am using some images for coloring sheets in Bible and history and I am using the sentence from the figures for our memorized history sentences (18 this cycle).
I am very happy with the quality, organization, and beauty of these timeline figures. They are absolutely worth the price!