It's the time of year for school plans! I've already listed out my goals for the year, so in this post I'll outline what I'm planning on doing in the broad overview with some reasoning thrown in, and then starting next week I'll develop the nitty gritty logistical details.
This year we are now finishing was a muddle-through year with the pregnancy and newborn stage going on. This coming year will be a year I need to make myself step up to the plate more consistently and up the ante (Hm, can we play poker and baseball at the same time?). If prior experience is any indication, the 8 month to 18-24-month period is a lull between the exhaustion of newborn days and the intensity of toddler days, so I need to remember to make hay while the sun shines (how about farm and baseball and poker?).
Ok, I'll stop with the mixed metaphors and get right to it.
Homeschool Essential Subjects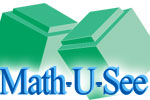 Math – I am still happy with Math-U-See, so we'll keep chugging along. Even with the interrupted and half-hearted school year, both boys made it through almost one-and-a-half books. They both still need fact drill to keep the basics fresh, and for that we'll use Calculadder. Last year I just gave these to them as an extra math sheet, but this year we'll do them the "right way," as timed drill. I'm going to start them right at the beginning with lesson 1 (writing all the numerals) and make them progress through one by one. I think success with higher math will depend greatly upon their facility with the basic functions and facts, so I'm not hesitant to camp out there and to return again and again. Ilse is in the ambiguous Pre-K-1st category that really shouldn't even exist. Because she wants to do math and is showing definite aptitude for it, she will continue working through Primer and move on to Alpha. She would probably be done with Primer if I'd actually been working with her on math this year; I have been the one holding her back because giving her teaching time in math was not on my agenda or priority list. I'm not concerned about it, but now she is also on my radar for needing math time.
Circle Time – Even more important than knowing math facts is having God's Word hidden in our heart. It is often hard to think of it in that way when planning a school year or a home schedule, but it is true.
But seek first the kingdom of God and his righteousness, and all these things will be added to you.
Clearly, it is not that knowing math facts is not important, but that we must fight to keep our priorities in the right place. In our house, Circle Time is where we seek first God and His Kingdom, so it is not a nice addition, but an essential. During Circle Time we build our family culture through singing and praying and reciting God's Word together.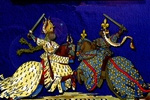 Latin – The foundation of our "language arts" studies, Latin is a core subject. In our Latin studies we get not only Latin, but also logic, grammar, and vocabulary. It is a hard subject, but it gives great dividends for the time invested. We use Latin for Children. Hans and I will finish up the last couple lessons of Primer A and then move into B. Jaeger will begin with LFC A.
Phonics & Read-Alouds – Ilse is in full learn-to-read mode now. I will continue her in phonics instruction with TATRAS, supplementing with Bob books, then Rod and Staff Pathway Readers, then Cynthia Rylant and Arnold Lobel I-Can-Read books from the library. Her instruction time also includes read-alouds, primarily fairy tale anthologies, favorite picture books, poem anthologies, and Bible stories.
Weekly Meetings – This is new for this year. It's not really a subject per se, but it is my effort toward teaching through relationship, growing them in confidence and responsibility, and training them in life management skills. We started off this year with meeting one-on-one on Monday or Tuesday, and the boys loved it. I couldn't keep it up, but I want to return to it this year. I want the boys to feel like owners of their work rather than like slaves being put to forced labor, and this is my practical solution to accomplishing that in real life. We'll have a one-on-one planning & pep talk meeting Mondays and a one-on-one followup meeting on Fridays.
Homeschool Enriching Subjects
Lessons – Twice a week I will have an hour and a half with Hans and Jaeger and two neighbor friends (good friends who just moved onto our street!) to cover those good-to-have subjects that often get lost in the shuffle of a busy family life. Here's the real kicker, though: My 5-year-old and 3-year-old will be at said neighbor's house during this time! So, with the wild cards removed and the lessons as an appointment and commitment with others, it might actually happen with regularity. We'll do Bible, history, and science/geography/nature and, depending on our time and how things go, some art & literature study. I am hoping we will work through two Shakespeare plays together. I think we're going to have a great time!
Since I think the best thing for preschoolers is to have plenty of free play time, I am not concerned with what my friend decides to do with the young set at her house during this time. I am happy they will all have time to play without the older ones to influence their games and talk.
Writing & Speaking – Language skills is our focus for the year, partly because it seemed to be the right time to jump into a writing class (that I will be teaching) and take advantage of a local junior speech class being offered. It's been three years since I've taught a writing class (which was for my sister and her friends), and ten since I started teaching writing, and now here I am actually starting a class for my own. Crazy. Super-far-away-someday is beginning to arrive.
Independent Work – I am keeping this time reserved but not filled with extra work because I don't want to dilute the meaningful studies we're already committed to. The boys will have to finish any math they didn't get done during the allotted time, work on writing and speech homework, and do some daily extra Latin work. I am happy with their geography knowledge, so I'm not going to add in more map work. We will do touch-typing instruction this year, but I haven't picked a program yet.
Book Club – Here is where it is my turn to have the young set and my friend's turn with the older ones. She will be doing a book club with them, reading one or two titles a month. Hopefully through this time they will learn how to engage with what they would otherwise simply consume, learn to verbalize their thoughts and improve in conversation skills, feel a bit grown-up, and have a good time sharing in the love of reading with friends.
Nature Study – This is another thing we'll be doing with friends this year. Our plan is to alternate book club and nature study days, again hoping that making the calendar commitment together will make it actually happen. We have a list of potential spots that I plan on checking out with the kids over the summer. We'd like just 2-3 spots that we can visit a couple times and really get to know (and, hopefully, love). However, things like stroller accessibility and toddler-drowning-potentials are a real factor that must be considered. It will be a low-key endeavor, involving mostly walking, attempting to keep track of 14 children (10 of whom are 6-and-under) between 3 moms, and encouraging the children to observe rather than just run and yell and play. If we can manage to get some of them to sketch, then it will be a wildly successful endeavor. Considering our demographic, I'm skeptical we'll see or hear much bird life. :)
Music – We will continue with piano lessons. We will also attempt some singing lessons, probably during Circle Time. I will continue my low-key, exposure-centered composer study: simply playing one composer per term during morning chore time. A few years ago I planned out a 3-year composer rotation, and this year will be year 3: Schubert, Mendelssohn, Stravinsky, Rachmaninoff, Liszt, and Holst. And, during Advent and Passion/Easter, we'll listen to The Messiah.
---
I did my best to keep things simple: much, not many. Not only that, but between our summer start, but the classes fall starts, and my friend's promptings, I'll actually be starting gradually instead of going whole-hog, all-in, straight from the get-go. I hear that starting gradually is a key to longevity and making it work, but I've never managed to hold off in that initial burst of enthusiasm.
Now, if any of you have any secrets for pencils not disappearing (at convenient times) or crayons actually being kept in good shape for more than two weeks, please tell me!