Having an organized homeschool means knowing where you should put things away, it doesn't mean you won't ever have to put things away again. Sad, but true. Here are the little ways I've made putting things away easier at my home, and I hope they will inspire you to find unique solutions in your own home!
My Bin for Teacher Manuals
Ok, this is my last file box of books, I promise.
I keep the math and Latin teacher manuals – that is, the answer keys – in a file bin.
The file bin is lidded.
The file bin is up high.
The file bin is in a high traffic area of the house.
This is because I believe in helping my students flee temptation. I know from personal experience how easy it is to self-justify and excuse "checking" one's work before it's actually done.
So the temptation is not impossible to reach, but it would take many laborious steps that would have to be strategically taken, meaning it would not be possible to find oneself "accidentally" looking at the answers.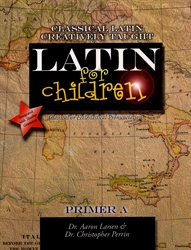 Additionally, these extra barriers help me keep my own mind sharp by doing as much checking as possible without the answer key. I am much better at all my facts now that I've done first, second, and third grade twice. My math is improving and I can almost always check their math without the answer key. Since I am also trying to learn Latin along with my children, I've used our Latin reference to figure out answers I'm unsure of rather than pull out the manual. I try to keep my mind engaged with math and Latin to keep sharp and to keep up.
Details
Being organized is about being prepared and having a place for everything. It is not about everything being match-matchy or color-coded or painted with chalkboard paint.
Also, check out my eBook Paperless Home Organization, which lays out step-by-step instructions for creating a home management organizer & planner digitally. Make that smartphone, tablet, or iPod touch a useful tool of your trade!

During the month of October, you can use the discount code organizing for $1.50 off the $3.99 retail price (pdf only).

Moms have a lot of details to keep track of. Here's how to make your technology work for you, using only your mail program and 2 free apps.
[category: practical | tags: organizing]