I have a 5-year-old daughter who is only barely beginning to learn phonics and blend. She's currently on the second Bob Book. So she is beginning to read, but only just, and with much labor. My 3-year-old son sits in on the phonics lessons, and knows all the sounds we've learned so far as well as my daughter, so I'm getting a 2-for-1 deal on phonics time by having him sit next to me on the other side of the couch while I work with my daughter.
Of course, the real bonus of having him there is that he's not stealing his brother's gum or falling off swings or climbing the bookcases or eating sugar out of the canister or any number of other creative 3-year-old-boy-type things he would otherwise be doing.
So, at least 3 times a week, I plan to spend 20-30 minutes with my 5-year-old and 3-year-old on the couch, one on each side, doing the following:
Phonics & Reading Lessons (5-10 minutes)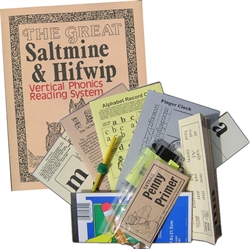 I use TATRAS for phonics, and the Bob Books, Pathway Readers, and endless library copies of everything Cynthia Rylant & Arnold Lobel for reading practice.
We'll spend just 5 minutes going over our phonogram chart and a word list, then read a Bob Book (moving on to a couple pages of a beginning reader when she's ready).
Bible Story
Next we'll read a chapter from one of our Bible story books. My daughter has a penchant for always requesting Adam & Eve, any version, every time. Usually I indulge this request. Everything hinges on Genesis 1-3 anyway, right?
Poem or Mother Goose
We'll read a page or two from a poetry book to round things out and wrap things up.
Depending on the day and my energy or our schedule, I'll try to add in a picture book of their choice, as well. But my 3yo is always requesting St. George and the Dragon right now, which takes 17.3 minutes to read, so practically requires its own time slot.
During math time, my 5-year-old will work in Math-U-See's Primer (she's already halfway through) and my 3-year-old will have various number sheets when he wants to "do school" like everyone else.
Of course, they both will also be a part of Circle Time, where they are getting their singing, catechism, and Bible memory.
Other than these things, along with a heaping serving of reading aloud (or listening to audio books), I believe that the most important thing they could be doing is free, unorganized-by-adults play, whether it be with open-ended toys, puzzles, or outdoors.