Of course, the bulk of our time blocks goes to the older students. I can hardly believe this is Hans' 7th year of "official" homeschooling since the time he started reading at 5. Though they do have more work than their younger siblings, none of it is onerous and they still should be able to do it and have plenty of free time every day for their own pursuits and hobbies if they don't dawdle.
Elementary Students
My two older students this year would be 6th & 4th grade, though grade levels apply not at all in the way we do things.
Independent Work
So while I am working with the middle set (where is the baby-toddler going to be during this time? Getting into people's business and making messes, I'm sure. I'm going to attempt to interest her in a single-toy-in-the-pack-n-play time. That worked for my other daughter, but not at all for my third son. We'll muddle and get on.), the two older boys will start their checklists. This year, their independent work consists of
piano practice
xtramath.org drill
finish math page if necessary
exercise (I'll put options up on the board like pushups or running around the block)
read Bible (this is self-directed; they pick what they read)
writing homework (what to do each day will be on their list)
fill in a blank continent map with country names (once per week, each continent once per term – on the day they have map work, they don't have penmanship and they are allowed to look up it up, but they have to do it on their own)
Then after our one-on-one time (explained below), they also have "EHAP your stuff" on their list. They aren't done until their stuff is put away.
One-on-One Tutoring Time
After teaching the 6yo & 4yo, I will attempt to get them to play with and occupy the baby-toddler. That very well could be asking for trouble; we'll see. Then I'll take a quick break – use the bathroom, move around (go outside for a minute or two if it's nice), drink ice water, and even have a square of chocolate if I need it. Then I'll correct the boys' math pages and call Jaeger for his tutoring time. After his, I'll come up for air for a few minutes and then plunge back in with Hans.
On the agenda for tutoring time is
go over math mistakes
2 lines of cursive practice (I have to watch at their elbow or they don't form their letters correctly or well)
sometimes writing tutoring
Latin work
For this all to happen before lunch, each boy is limited to 30 minutes. We'll tackle the above list in order and however much time is left after math and the less-frequent writing help will be used in Latin work. I augment Latin For Children with extra writing & translation, and this year want to start more reading.
These students are not done for the day until their math is 100%, and they may have to do another draft on their writing if needed. So, after their tutoring time, they may or may not be done, depending on how well they worked.
At the boys' request, we will also reinstitute "Monday Meetings" during their Monday tutoring time. Because some of the daily agenda & pep talk stuff will move to the agenda segment of Circle Time, going over the week's plans won't take so long and can be added in.
During our Monday Meeting time, I will
give them their weekly school checklist
have them pick a book or two they intend to read that week and write it on their list
tell them an improvement I saw in some aspect of their work the week before
suggest an area to focus on improving this week
have them write their own improvement goal for the week (playing a piano scale perfectly, doing math without complaining, etc. – but the choice is their own)
It only seems right, then to also have a "Friday Follow-up" during their tutoring time where I will
look over their list and get it ready for filing
ask them what the hardest part of the week was
ask them what the best part of the week was
Basically, I want to impart some of my own learning and implementing of organization principles and habits to them from the beginning (because why not?). We'll see how it goes.
Elementary Lessons
For content areas this year we will be "co-oping" again with our friend-neighbors who live about a block away. We both have 5 kids who get along exceedingly well and who are all similar ages. Twice a week my friend will take the middle set (the 6-year-olds and 4-year-olds) while the youngest ones nap and her older two (10 & 8) join us at our house. She reads picture books for an hour to the younger ones (she's a saint; I've never been able to manage that myself!) and then they get free, open-ended play without the older ones interfering.
And with the younger ones not even in the house (and the baby napping), we do Bible, history, science, and sometimes artist study or literature. This year we'll be studying the New Testament & Acts, the modern period (Reformation to now, so definitely a brief survey!), the periodic table and elements, and Shakespeare.
Last year our lesson time consisted mostly of me reading aloud (I have never read aloud so much ever before), and some written or oral narration (I still wasn't good about that). This year I toyed with the idea of simply assigning all the history reading, but I realized that if I did that, I would – no matter how much I resolved otherwise – not keep up. And my own knowledge of modern history is pretty weak, so if I want to learn it myself (and I do), then we'll learn it together by my reading aloud. The kids usually color while listening and that puts my coloring book collection to good use. However, this year I want to take better advantage of having four kids all hearing and learning the same thing. I'm not good at getting narrations out of them and they aren't that good at narrating (my own fault), but they love to quiz each other. So I have a couple quiz-like games to do regularly where they do the question-making as well as the answering. I will facilitate and correct and make it happen, but they will be reviewing and narrating in a way by coming up with both ends of the "quiz." I'll post more on how that works after we do it a few times and I iron out the kinks.
We'll also work at some related memorization:
Our books for Elementary Lessons will be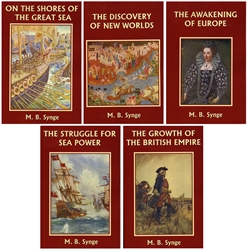 Covenantal Catechism books 4 & 5 on the Gospels and Acts
Story of the Renaissance & Reformation by Christine Miller (we got about a 1/3 into this book before ending our year)
The Awakening of Europe, The Struggle for Sea Power, and Growth of the British Empire by M.B. Synge (Yesterday's Classics)
All American History, vol. 2, student reader (only a few chapters to cover the 20th & 21st centuries – we'll end at the Cold War or go through 9/11 & the war in Iraq, depending on where we are our last term)
Mystery of the Periodic Table by Benjamin Wiker, Periodic Kingdom by P.W. Atkins, and selections from The Periodic Table by Eric Scerri are our main science readings
The Story of Oxygen and The Story of Nitrogen by Karen Fitzgerald, Story of Carbon by Mark Uehling, and Atoms, Molecules, and Quarks by Melvin Berger are some other books we might get to
The Periodic Table Coloring Book, a Periodic Table puzzle, and a deck of Periodic Table playing cards will help round out our study
Hamlet, Twelfth Night, and Much Ado about Nothing for Shakespeare this year! I love all of those, so I'm excited.
I'll write more about how we're doing Shakespeare in the coming weeks. It deserves a post all its own.
Writing Class
I'll be doing writing class again this year, after much internal (and some external) debate. Rather than give up a quiet time this year for the class, we're giving up an hour of our weekly play group time Wednesday mornings to make sure writing happens. I'll teach beginning sentence diagramming, mechanics, and also tutor their writing. I'll be taking them from one paragraph writing to five paragraph writing over the course of the year.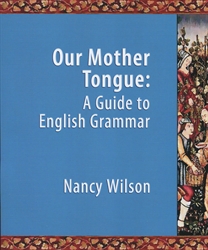 I'll be teaching from Our Mother Tongue by Nancy Wilson for diagramming and pulling practice and homework sentences from early readers and picture books. I'll use Evan-Moor Paragraph Editing to practice mechanics (just learning by correction as they wrote last year didn't seem to stick very well, nor translate into better first drafts). And I'll be drawing on a few resources (mostly IEW, but also my experience teaching writing) to help them improve their writing.
The two most important factors for improving writing, I think, is copious reading & listening to good books (you need thoughts in your head in order to write!) and just lots and lots of practice with feedback. So my main writing-teacher strategy is to give them opportunities to practice and give them feedback (which they have to use to revise and turn back in, not just read and forget). It's important to me they learn how to write a good outline, use topic and conclusion sentences (I'm really picky about these), and have every sentence in a paragraph relate to that topic sentence (cohesion – it's a hard one to teach).
I'm hoping the class format will work to allow the students to work on a paragraph to edit in class while I rotate students around going over their feedback with them to make sure they understand and to model what I'm talking about. I do that with my own boys with each draft (they usually go through two or three before their final one is acceptable), and I'd like to be a part of that process with each of my students (I might have anywhere from 3-8 students, including my two; not positive yet).
So, that sums up our late-elementary plans.
I did my best to cut out any idea that wasn't essential and keep it simple but challenging. I think we'll accomplish that. You can rest assured I'll keep you updated as we go!