Thinking about my homeschool day in manageable chunks not only helps me plan them out, but also helps me "do the next thing" each homeschool day in the chaos that is this homeschooling life. In Plan Your Year, Pam explains how to schedule this way and also gives you several other options like looping that will help make it all seem much more doable.
This year we have an 11-year-old boy, 9-year-old boy, 6 1/2-year-old girl, 4 1/2-year-old boy, and almost-2-year-old girl.
K-1st Block
After math is over, I'll move to the couch with my 6-year-old and 4-year-old. My main priority is phonics review and also sharing a book or two. This year the goal for my 6-year-old (and the 4-year-old usually tags along) is that we practice phonics and reading 4 times a week, that we practice handwriting two or three times a week, and that we read together on the couch at least one book a day (they are also read to by others and listen to audio books; this time is as much for filling their mommy-time needs as for reading aloud).
I dropped the handwriting ball with the older boys, so I'm going to attempt to do better with this pair. They write less on their own, so I might have a shot and teaching them better muscle-memory habits.
For phonics I use TATRAS, for handwriting I use Penny Gardner's Italics: Beautiful Handwriting for Children, and for read-alouds the kids get to pick one what they want from our picture book basket (which I have purged so that it only contains books I love). I've posted before about some of our favorite fairy tale picture books, and if you're interested I can share a favorite picture book list. I like lots of fairy tales, folk tales, and classic stories, plus the great characters like Frog and Toad and Frances.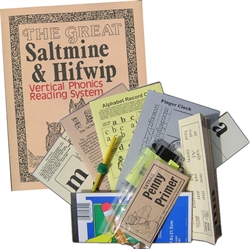 This year I'll start both Ilse & Knox a Goodreads.com account so I can log the books they read. When they read 100 books, then they get their own Bible.
After practicing just letter-formation for awhile, I will add in spelling. Spelling cements in phonics, sort of like doing phonics backwards (hearing and writing instead of seeing and saying). I'll start off using the first word lists in TATRAS, but then move on to Sequential Spelling 1 when they seem ready to learn basic word formation rules. I never had to finish even Sequential Spelling 1 with either of the boys because they have visual memories and spell just fine. I'll be interested to see how it goes this second time around.
So, by 10ish in the morning, the 6-year-old has spent nearly an hour hearing and perhaps repeating beautiful language and Truth, done some math, practiced reading and writing and been read to. Pretty solid first grade right there. The best next priority, I think, is simply to furnish her with plenty of self-directed, open-ended play, preferably out-of-doors.
More posts on these younger years