June and July, the months to go clicking around reading other people's homeschool plans rather than working on your own. I'm right there with you. Here's some more fodder, in case you needed it.
This year we have an 11-year-old boy, 9-year-old boy, 6 1/2-year-old girl, 4 1/2-year-old boy, and almost-2-year-old girl.
Math Time
After Circle Time is wrapped up, the kids will grab their clipboards which has their math sheet ready (or will see on their assignment sheet that they are watching a movie or doing some other review activity) and head to the other table to do math. I'll make sure each of my four math students are situated and started and then work with the one who currently needs help the most. I'll play hot potato with math needs and juggle them all. This set up has worked well enough for me so far that I will keep with it, but I wouldn't be surprised if we reach a point where it no longer works logistically. I like getting into "math teacher mode" and keeping everyone spinning. But so far I've only had 2 serious math students and then 1 or 2 who wanted to do math but didn't need to. I'm not sure how independent a learner my third child will be, so I might have to give up this part of our routine if she needs me more than the boys have. This is another reason I'm moving it to after Circle Time. If doing all the math lessons at once doesn't work out, then it will move to each child's one-on-one time.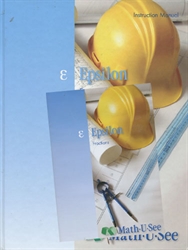 I am still using Math-U-See for all the students. We just pick up where we left off, so Ilse is beginning in the first third of Alpha, Jaeger is about halfway through Delta, and Hans just started Zeta. Right now my plan is to stick with Math-U-See at least through 7th grade and then evaluate. I really, really, really love Math-U-See. I had two real-life older moms give me an enthusiastic show-and-tell presentation in their homes when my oldest was 4 or 5 that convinced me, and now I've been able to do the same with at least 3 others.
I do have MUS Primer for my 4-year-old, but I'd rather he just learn to write numbers with free printable pages like these, but sometimes he insists on doing "real math."
How do you manage multiple math students? All at once or individually?