FYI: Some, but not all, links in this post are affiliate links. At no extra cost to you, you can support my planning and blogging habit by buying your own school supplies through my links. Thanks!
It's hard to believe I now have a second-born in double-digits.
Jaeger has always worked in advance of his years, simply because he was reading fluently at five and always eager (and quietly competitive) enough to keep up with his older brother.
This will be the first year I have the two older boys doing significantly different work, and it will be interesting to see how the dynamics play out. They've always been together, or had the same checklist. But the time has come for them to separate. Jaeger has received much more challenge in his work than Hans, because I've done so much meeting in the middle with them over the years. It's time for Hans to be more challenged and for Jaeger to get some slack and not feel compelled to keep up.
It's a trick with homeschooling multiple ages: How to best use our time & resources by teaching kids together while still serving each child's needs. We need to assess each child and each year and try to do our best, compensating one year for the previous year, or stretching in a new direction based on observations and new things we learn. This is part of our responsibility as homeschooling parents.
Math
I love Math-U-See for several reasons:
The clever manipulatives to demonstrate addition, subtraction, place value, commutative property, basic algebra, fractions – the blocks and how Mr. Demme uses them is simply clever and fun.
Concepts and instruction is based off understanding place value from the very beginning, which makes borrowing and carrying and long division actually comprehensible when they come, instead of simply "what you do to get the right answer."
Video lessons mean I don't have to introduce concepts – someone with a sense of humor and a few prepared examples and jokes can present the material for the first time, then I can take the role of tutor, side-by-side, helping them apply it without having to do the actual teaching. It's more than the fact that it is outsourcing some time-intensive work (which it is), it is that someone is presenting the material who is excited about it. It doesn't matter how many cups of coffee I've had, I'm not going to be excited about teaching math. After watching the videos myself, I have a better conceptual understanding myself of how and why it works as well as a few teaching tricks and demonstration techniques I can use when I am at the table, at-elbow, helping with their math. I have picked up ways to show how to work problems that would have been a stretch to pick up from a book, especially a teacher's manual, driest of all writings known to man.
But what I love most about Math-U-See is the mastery approach and Mr. Demme's foundational principle that children aren't "behind" or "ahead," they are where they are and they can only take the next step. Isn't that the core understanding we must have to teach from rest? What if a math program was based on that very idea?
It'd be Math-U-See: books are consecutive, but not graded. Extra practice can be printed off the website. If a child whips through the lesson with clear understanding and ability the first day he does the lesson, let him do the next one the next day and skip the extra five pages in the workbook. Did he work all the pages in the workbook this week and he's still having trouble? Watch the lesson again, keep at it, and print off more practice sheets. Don't move on until he's got it nailed.
My current 10-year-old fifth grader is an excellent math student. Sure, long division was rough, and he was at it for more than a month (it might have been two), but he was also doing it a year and a half younger than his older brother had. I love this curriculum that allows each student to work at his own pace while doing its level best to not communicate "behind" or "ahead" to them.
So, my 10-year-old left off last school year at lesson 19 in Epsilon, the fifth book in the MUS series which focuses primarily on fractions. He completed a few lessons more than a whole book last year (close to a book and a half), so when I ordered math supplies, I made sure we had the next two books on hand for him.
However, I have no ending goal for him in math. My goal is for him to continue to work to mastery with each lesson, wherever that gets us.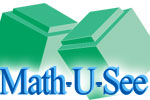 Oh, yes, plus we'll do daily fact drills just to keep that up. He's so, so close to passing all the levels of xtramath, and once he passes the division level, he may stop. However, a Calculadder drill page a day is like warm-ups and keeps previous knowledge solid and in use, ready for recall.
Bible
Of course our 2015-2016 Morning Time Plan is focused primarily on Scripture and learning about & worshipping God, so that is the primary religious instruction in our day, but my fifth grader also needs some study with depth.
On his own, he will be reading Starr Meade's Mighty Acts of God. He'll read the Scripture listed in a chapter, read the chapter (which retells the Scripture with an emphasis on what it tells us about God), and then during our one-on-one time he'll narrate it to me and we'll use one of the end-of-chapter discussion questions to talk about it for a minute or two.
During Elementary Group Lessons (mentioned below and with its own post to come), we'll also be studying the Heidelberg Catechism together, question by question (this will take us two years). But that will require no independent study or homework.
Language
With a broad category like "language," about half his studies fit in this heading.
Writing & Grammar
We have done formal, separate writing lessons for the last two years, and this year we'll simply be putting what he's learned into practice with written narrations. I'll assign one paragraph per week, with a topic chosen from our lesson-readings (listed in the Studies section below). He'll write a draft, do a self-edit, turn it in, we'll talk about and I'll mark it up, then he'll write a final revision. Each of those steps will happen on a separate day, so one paragraph is a week's amount of work. It's important to me that my students (whether they are my children or not), know that no first draft is ever a final draft – all writing can always be and must always be improved upon by a second or third revision. That is simply the process of writing.
Here is the self-edit checklist I created for him:
We will use grammar to discuss his writing when I give him feedback and maybe diagram a sentence for practice while we're at it to review (we learned diagramming last year). But other than that and Latin, Jaeger gets a break from grammar study this year.
I am also going to try to get him fluent in writing cursive this year, though doing hands-on, at-elbow handwriting for three children a day might just drive me up a wall. Chocolate might be indicated.
Latin
Jaeger is almost finished with Latin for Children Primer A (I feel no need to finish books before we end our school year or start new ones with new school years). He'll be picking up in Lesson 21 or 22. I have LFC Primer B on hand for him to move into when he finishes.

We will also be doing extra Latin composition, translation, and parsing to solidify the skills using the practice pages I made, which you can download for your own use, too, if you'd like:
[convertkit form=4853668]
And, for fun, I bought some extra Latin supplements. At least once a week Jaeger will read some Latin aloud and then orally translate. Latin for Children comes with readers for this purpose, but I bought some extra Latin-reading material so we can switch things up and to perhaps inspire extra-curricular Latin reading also. After all, if the goal of Latin study is to read Latin, we should have some books in Latin to read, don't you think?
Literature & Reading
Inspired by Brandy's Slow Reading, I chose a book for Jaeger to read slowly throughout the whole year, which is a very different pace than he is used to, book devourer that he is.
He will read Pilgrim's Progress in 2 9-minute (because tracks are each 3 minutes) sections a week. This will make the unabridged book last all year. Yes, I mention tracks, because I have assigned that he listen to the audio book while following along in the hard copy. This will slow him down and prevent him from skimming, and also involve technology which will make the task a privilege rather than a hardship (I hope). Then he will illustrate the section he read in a special hardbound sketch book and incorporate a quote into the page (a baby step into commonplacing). By the end of the year, he will have his own mini illustrated Pilgrim's Progress. He loves drawing, so he's excited about this project.
His checklist also includes a section at the bottom we will fill out together on Mondays where he will select a book from the shelf for each of these statements:
Week's chosen book on history:
Week's chosen book on the natural world:
Week's chosen story book:
This is my way of helping him keep his reading well-rounded.
Content Areas
We will continue our Elementary Group Lessons with friends twice a week from September-May, where history, science, geography, art study, Shakespeare, and Plutarch will happen.
In a way, this two-hour, twice-a-week lesson time is more like a second Morning Time than like lessons. I do not teach, really. I read aloud, we talk, we memorize related songs or Shakespeare speeches together. This is really the academic counterpart to our primarily Bible-centered Morning Time. And it works so much better here rather than in the morning because the toddler is napping and the preschooler/kindergartener is outsourced.
The details of these plans will be the next post in this series.
Jaeger will also do nature journalling independently once a week as I wrote about before. Also on his independent work checklist is typing practice (we use Typing Instructor for Kids) and piano practice (my husband gives him lessons).
Organizing his stuff
One thing I want to work on with my 10-year-old this year is keeping track of his books, papers, and assignments. Although he's had an independent work checklist for years now, I've always checked it with him multiple times a day and checked each piece of his work as he's done it. He has a hard time keeping track of his stuff, even when I provide clear and easy-to-use homes for each item. So this year at the end of the school day I will be checking his spot for his books and clipboards and making sure everything is where it should be and not left hither and yon. It's not been uncommon for his clipboard to be empty on the kitchen counter while his checklist is on the table nearby. Why? Why did it ever leave the clipboard? These are questions that can never be answered.
I'm thinking about a consequences/rewards system like this: If I check and his stuff is not in its place, he has to do an extra putting-away job (for practice!). If I check and his stuff is in its place, then the next day he can cross off a row of his math drill to skip.
He has his own container with colored pencils, a mechanical pencil with extra leads, and an eraser stick. He has his own shelf reserved for his stuff, and putting this away involves no opening or closing or pulling out – just set them on the shelf. Removing as many steps as possible from the putting-away process is an important part of setting kids up for success.
Here is the shelf I have set up for him:
Here is his checklist:
The blank space above each checklist is to write things that are happening each day. On Mondays, we'll go over his plan for the week, and he will fill in the books he's reading, choose & copy a motto, and write out any commitments we have that week. It is a beginning step toward learning to manage one's own time.
And here is my Course of Study for him:
I am looking forward to this year with his own personal studies apart from his older brother.
Find out more about our upcoming school year at this index post: 2015-2016 School Year Overview.