FYI: Some, but not all, links in this post are affiliate links. At no extra cost to you, you can support my planning and blogging habit by buying your own school supplies through my links. Thanks!
My 5-year-old, who will be 6 midway through the school year, is already reading fluently. He's a bright little cookie, but that doesn't mean he needs extra or more rigorous schooling.
I fully subscribe to Charlotte Mason's recommendation for those under 6:
In this time of extraordinary pressure, educational and social, perhaps a mother's first duty to her children is to secure for them a quiet growing time, a full six years of passive receptive life, the waking part of it spent for the most part out in the fresh air.
Now, my 5-year-old didn't learn to read while living a passive receptive life out-of-doors, of course. He learned to read because he wanted to be part of his older sister's phonics lessons and he picked it up quickly and intuitively.
My rule of thumb for lessons for all children 6-and-under (yes, even including 6-year-olds) is that they don't have to do any school lessons they don't want to. When my oldest was 6 & 7, this was primarily a survival strategy as I had my hands full with all-littles and moving. I worried that we'd have a hard transition when he was required to complete things. I was worried he'd not learn a work ethic if I didn't make him buckle down and do lessons he didn't want to do. But, he was reading and so I figured we were fine with whatever for awhile.
And I was right. And I'd have been right even if he wasn't reading.
All learning is a self-directed process. Not that they don't need guidance and lessons, but you can't force learning onto or into someone. Learning is work they have to do for themselves. If they aren't receptive to it, you're wasting your time.
Of course children eventually must learn to do the work of learning whether they feel like it or not, but I don't think they're even able to do that developmentally or emotionally until 8ish or so – whenever they start arguing about the work instead of thinking it's so neat to have a math worksheet. Just like you're only making fruitless work for yourself if you try potty-training a child who isn't interested or try teaching a baby to walk who is content to crawl or roll, I think it's perfectly safe and natural to let learning happen as they are open and receptive and interested for those six-and-under.
This is easiest when the child is not the oldest, when lessons and Circle Time and reading have become a natural and normal part of your day.
Because my 5-year-old is the fourth born, there's already an active life of learning going on around him. He usually doesn't want to be left out. So, harnessing that "want to" and interest means also having something for him to do when he asks for the work, while making it my goal and focus to send him outside as much as feasible. My 5-year-old in particular has his heart set on having his own independent work checklist, just like the big kids. So he will have one, even though it's silly for a 5-year-old to have a checklist.
Math
He already started Math-U-See Primer last year and is about 1/3 through. So he'll pick up where he left off and progress through as he reaches mastery. I want to work in some number-writing practice, because that's what he needs more than math worksheets, but he thinks he's too big for the number writing practice pages now. sniff. But Calculadder includes number-writing practice (not tracing), so he'll have a little tossed in there.
Language
Even though he's reading fluently, we'll still practice phonics to find and clear up misunderstandings he's reached by learning to read mostly on his own. We'll also work on his pronunciation issues when practicing the phonics sounds (nothing atypical for a five-year-old boy). I think learning all the phonemes helps with spelling later, too.
Last year he also wanted in on his 7-year-old sister's spelling lessons, so he will also be doing Sequential Spelling when she does, but just a few words at a time and my focus will primarily be handwriting, not spelling. And, again, the only reason we're doing it at all is because he wants to do it when his older sister is. I did not do spelling with any of my others at 5!
We'll also do 5 minute handwriting lessons with Beautiful Handwriting for Children.
During the lesson time I have reserved for him and his sister, we'll be doing phonics, I'll read aloud poetry and fairy tales, and Knox will read aloud an Aesop's Fable.
The primary language focus I do have for him is simply that he gets many, many stories through read-aloud, audio books, and independent reading. On his checklist will be reading aloud a picture book to his 2-year-old sister, also.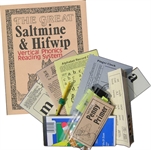 Bible
Of course our 2015-2016 Morning Time Plan is focused primarily on Scripture and learning about & worshipping God, so that is the primary religious instruction in our day.
In addition to that (and family devotions after dinner), we'll read a Bible story and a chapter from Leading Little Ones to God during our couch time. This will look familiar to anyone who's been around for awhile, because it was the plan last year, too. But Knox & Ilse's couch lessons happened an average of once a week, so we didn't make it all the way through either book. But they are good books, so we'll just keep going this year!
Organizing his stuff
In the planning phase, I use the Plan Your Year Kit. So, saved in Evernote, I have this "Course of Study" for Knox:
He has his own Memory Work binder and his own clipboard with a list (because he requested it), but I keep all his papers until I hand them to him to do and we are doing them parent-at-elbow style (unless it's something I give him simply to occupy him)
I have a bin for our K-2 couch and table time, and that's where our books and supplies live. He also has his own container with a mechanical pencil & his own crayons.
Find out more about our upcoming school year at this index post: 2015-2016 School Year Overview.