This year has been my first spin through homeschooling 7th grade, but it won't be my last. Lord willing, I will have four others to bring through this stage.
Therefore, this evaluation is as much for me as it is for you. Next time around, how will this plan change and how will it stay the same? Best to think through that now while the good, bad, and ugly are fresh in my mind.
Also, the lessons I learned from this first "upper school" year of ours need to be incorporated into our 8th grade plans next year.
So, let's dive into what worked and what didn't.
Math
We're continuing with Math-U-See, for sure.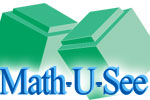 Hans has already done more than one book this year. He began in Pre-Algebra lesson 10 and is currently in Algebra lesson 15, with 7 weeks left to go in the school year.
The video lessons have been adequate 98% of the time to explain the concept and get him rolling, which I greatly appreciate! There isn't too much work on each page (1 page per day), but what work there is we make sure is 100% correct every day. This helps them learn from their mistakes and not keep making the same mistake over multiple days before it is caught. I do the checking, though I know many delegate that at this stage to the student.
However, when I check it, I know his status, I know how he's doing, I know whether or not he's ready to move on to the next lesson. If I delegated the math checking, I would end up not paying any attention to what he's doing and that would make it easy for slippage to occur – just like bedroom-cleaning and chores – I can only expect what I inspect.
Writing & Grammar
Hans has been writing a paragraph for every history chapter and science chapter he reads – three total per week. This has been excellent. I revise them (most weeks) and the next week he turns in his revised paragraphs with his new paragraphs. Because they're typed, it's not an onerous process. He's a good writer, a natural with words and expressions, so this has been working well for us.
We haven't done any 5 paragraph papers this year at all. I have plans to make up for that next year. :)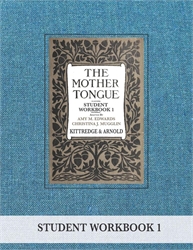 For grammar we've been using The Mother Tongue and I dislike it. I think grammar is actually straightforward and clear, but this is a curriculum that complicates it needlessly. Not only does the King James style of the examples make things difficult to follow and analyze (subjects after the predicate or compound subjects split by the predicate, plus many words that have changed meaning), but they even keep old comma usage in the examples, so the students are seeing examples of comma use that are incorrect. This drives me bonkers and adds an extra layer of confusion for the students when we do learn comma rules (which, I promise, are not actually difficult; there are 10 and they aren't hard to learn).
I don't know what I'll do for grammar next time around, but it will not be The Mother Tongue. Probably I'll do my own thing again. Sigh.
Latin
For Latin, as with most things, you get out what you put in. Hans is just wrapping up LFC Primer B, meaning he's done about half a book this year, which is our standard rate for better or for worse.
I am not sure how he's doing, because I have not been keeping up with him. Unlike math, I haven't been checking his work every time, and therefore I don't know how he's doing.
We have been reading Latin together once a week and that has stretched us both and been fun. We keep an (online) Latin dictionary handy and figure out about 3-5 sentences at a time. We stuck with Winnie Ille Pu a bit too long – it is quite beyond us, really. Fabulae Mirablis, however, has been entertaining and right at our level. I highly recommend it if you're looking to actually use your Latin skills to read.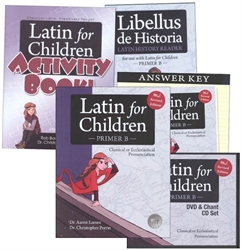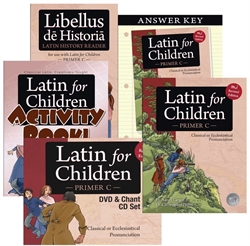 Literature & Reading
Reading The Odyssey and The Aeneid together, slowly over the whole year, was a good plan. We simply never found a scheduling niche for it to fit consistently. For about half the year we got up early – 6am – on Friday mornings and went to a donut shop half a mile away. He had a donut, I had a latte, and we talked about the themes we found in the book (I gave him two themes to look for as he read). Then we'd also go over his writing together.
That worked well when it worked, like so many things. But sometimes I didn't get up, sometimes the weather was too cold, sometimes I plain forgot, and we never really found a consistent time to have an uninterrupted conversation.
So we only read The Odyssey this year.
That's still not too shabby.
Besides that, Hans joined Elementary Lessons for Shakespeare. This year's selections were Julius Caesar, Much Ado about Nothing, and The Tempest.
His optional free reading list was lengthy, mostly because I wanted to make sure I was providing a copious and broad selection for him. I picked 36 and I'll group them in Hits, Flops, and Skips.
Hits
Flops
Skips
Next time around I will simply keep this list in my teacher notes and offer suggestions as I see they might be received, rather than give the list to the student.
Grammar of Poetry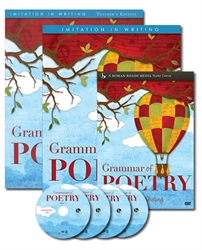 We are doing this (and logic and grammar) with friends, so the time is carved out and committed to make it happen.
It's a great program, and I enjoy Matt Whitling's teaching on the DVD. The exercises are straightforward and clear, and there's plenty of poetry composition with just the right balance of freedom and structure.
This program is definitely a hit that will stay.
Logic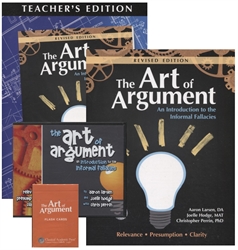 Seventh grade is the perfect age at which to study fallacies. Just sayin'.
The conversations on the DVD are not very energetic or the most compelling, but it's still nice to be able to sit in on class conversations and not have to gin them up ourselves. The workbook is fun and doesn't have a lot of busy work. We use the written answer sections simply as springboards for our own class discussion and oral review.
We also mix things up with occasional debates, which the room full of 6th-8th graders loves.
CAP's Art of Argument is another hit that we'll keep in our 7th grade rotation.
Bible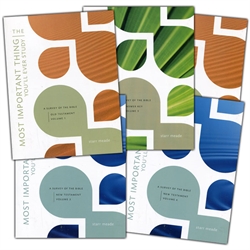 Hans is using Starr Meade's The Greatest Thing You'll Ever Study, a study guide through the entire Bible. He will finish the first two volumes by the end of the year and do the second two next year.
The lessons are not laid out in school-day chunks at all, but rather in sections based on the Scripture to be studied. This is great, but makes scheduling it a trick. What we did – and it's worked very well – is to schedule "Bible study – 30 minutes" 4 times a week on his checklist. He sets a timer for thirty minutes and does the next thing in the book (whether that's read a lesson, read assigned portions of Scripture, or answer questions) until it dings. Then he puts his bookmark where he left off and picks back up next time.
When he's done with this study, he'll have read the entire Bible himself, with the help of introductions, explanations, and questions. I love it.
History
Hans enjoyed his history books and we'll wrap them up on time, also. He's already finished with Herodotus for Boys and Girls. His paragraphs based on the chapters from these books have shown an understanding of the history, and I've been very pleased with them.
He also has a Book of Centuries, but remember how up in the math section I said I shouldn't expect what I don't inspect? Well, Hans had trouble for a large portion of the first history book with not having actual dates and so being confused about where to put events in his book of centuries. This turned into ignoring that he was assigned to do it. And I only checked periodically. When I checked, he did it. When I didn't, he didn't.
It is a great Book of Centuries, though, and I have been enjoying keeping my own as well (about as consistently as Hans).
Science
We started the year planning to read through The Story of Science: Aristotle Leads the Way, one chapter a week, writing a paragraph on each chapter as he went. This went swimmingly and he actually finished it by Christmas. So now he's in the second volume and since one of his history books is complete, I've assigned 2 chapters per week instead and we'll see if we can't make it through all three volumes in one year instead of two.
Next time around, I'll plan on the three-volume set being a one-year study rather than a two or three year course.
Yes, that's right, middle school science that was entirely reading and writing. I don't have a problem with that. Do you? :)
Overall, seventh grade has been awesome.
This year Hans has grown taller than me, his voice has changed, and he's started wearing collared shirts and tucking them in with a belt. He's growing up, but still runs around with nerf guns and sits on the floor tinkering with Legos. He tried testing the boundaries and arguing and all the other emotional outbursts around school and chores when he was 10, and for now has settled in and accepted his fate for the most part.
His workload was manageable, which helped. If he stayed focused and worked off his list, he could finish all his checklist by lunch.
With that hope set before him, and knowing that his evening computer time would be forfeit if he argued or fussed, and having the option to take a walk should he need to cool his heels, he mostly showed up and did the work.
Knowing the expectations and knowing he had free time coming helped prevent him from becoming discouraged. I think it's very easy to start piling things on at 7th grade, but they are going through so many changes at this stage, that it's better to keep the list reduced but concentrated – more than ever, this is no time for busy work. Twelve-year-olds want their work to be meaningful and don't need any additional stress than their growing is already giving them.
He had a solid year, and I'm proud of the work he's done.