Second time through sixth grade for me!
Sixth grade is the beginning of middle school, and Jaeger's work will begin increasing in difficulty. A few of his assignments might stretch him, but I think it should also be rewarding – we don't want just gruel and grind, we want challenge and reward.
He'll also get a step up in independence, but with plenty of accountability along the way. In Susan Wise Bauer's terms (<—- I love that talk), he'll be a "check in at beginning and end of day" student. Last year we worked on the habit of going straight to the checklist after finishing one thing instead of taking a break or postponing it. Business before pleasure. We do our work before we play. We'll continue that pattern and those mottos this year. However, his checklist will be digital and on the computer, so I think he'll be even more likely to want to "check" his list.
I think it'll be a great year. I'm getting kinda excited for it.
Bible
Last year Jaeger read and narrated from Starr Meade's Bible story books for older kids. Those were great. I thought her two books would take him two years, but we were more consistent than ever and he read them both! Next year he will start The Most Important Thing You'll Ever Study in 7th grade, so what to do this year?
On my shelf I have the Covenantal Catechism series. With the younger kids I will be using the Old Testament books this year. Jaeger has been through those twice already. However, we only used the New Testament books once and that was in a very inconsistent year. So, I selected those for his Bible study this year.
We'll start with Book 4 and keep Book 5 on hand in case we get that far. On his assignment checklist I've broken up the assignments across 2 days:
Read the passages for Covenantal Catechism lesson x. Read the CC lesson, also.
Copy the memory verse for CC lesson x. Write a 3-4 sentence answer to the review question of your choice from this lesson.
Plus, Jaeger will also be in our twice-a-week study through the Heidelberg catechism, continuing on from last year.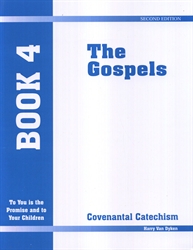 Math
I ❤ MUS. Jaeger had begun Zeta earlier this year, so he'll pick that back up and I have Pre-Algebra waiting in the wings in case he needs it.
Latin
Earlier in the year Jaeger started Latin for Children Primer B, so my goal is to have him finish it this year. If he does finish before the year is over, we'll do more reading and exercises in Latin, but not move on to Primer C until 7th (a full year earlier than his brother! — he benefits from my increased consistency over the years).
Plus, once a week, I'll sit down and work through Lingua Latina with Hans & Jaeger together as a supplement. I'm not sure how far we'll get, but I think doing translation work together is where a lot of the benefits from Latin happen.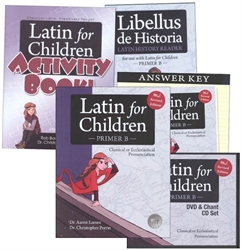 History
Everyone is in Medieval Times this year. We do history during our twice-a-week group time I call "Elementary Lessons," and when Hans was in 6th grade he continued with us during those lessons. However, this year the average age around the table during those group lessons will be lower and Jaeger – a history buff already – has read the books himself multiple times in addition to being a part of lessons with these same books 3 years ago.
So rather than use different books during lessons – I want my younger elementary two to get these books – Jaeger will do his own history and not be part of group lessons during the history portion.
He will read H.E. Marshall's The Story of Europe for his history spine and do a written narration. I've assigned him two chapters a week, and one written paragraph per chapter. There are 45 chapters in the book, so he should finish it and then we'll see how much longer we have. If we need another book to finish out the year, he'll do written narrations for Famous Men of the Middle Ages. He's read that book on his own multiple times already, but writing out narrations will be good for him.
Both these books are on his kindle.
Science
Jaeger will join us for our group lesson science, where we will be studying Botany this year. However, to keep his work up to his level rather than letting him slide along with his younger siblings, he will have an additional independent assignment during the week.
During our lesson (i.e. read-aloud) time, I'll be reading Apologia's Botany book and we'll have time reserved for drawing in our nature notebooks while I read. I'll have the kids bring in bits of plants, depending on what we're reading about, and they can draw them.
We're also joining up with friends for more consistent nature walks this year, and we'll collect some samples during that time as well.
In addition to this, Jaeger will read & draw through Botany in a Day. He'll skip the first section of the book, which is all about how plants evolved, and dig right into the middle section about how to identify plant families. He'll copy the illustration and captions into his nature notebook.
Literature & Writing
This school year I will be teaching a class for literature & writing which both Hans & Jaeger will take part in. We'll do medieval lit and practice writing on themes or topics pulled from what we're reading.
I have settled on our books, but not the discussion themes or writing topics yet. That class won't begin until September, while we'll begin our independent studies in July, so it's lower on the planning priority list right now.
We'll read Beowulf, Sir Gawain & the Green Knight, a paraphrasing of Canterbury Tales, and Fierce Wars & Faithful Loves (a paraphrase of The Faerie Queene). This will be mostly the same group I had last year for logic & poetry & grammar, so I'll also add in some medieval poetry between books and we'll diagram together on the board to keep up our skills.
I'll have the kids keep a commonplace journal, but my goal is to make the atmosphere of the class like a book club. Instead of lecturing, I'll be leading book discussion and getting them to voice opinions – and then back those opinions up with evidence from the text. It'll be fun. Middle school kids are great for this sort of thing.
Wide reading and other life pursuits
Every week during our Monday Meeting, I will ask Jaeger to select one book each in the history, natural world, and story categories. He can choose from our shelves or we can find something at the library together.
If he doesn't finish one of the books in a week, it simply carries over to the next. And I don't make them finish every single book they start, either. It's ok to try and then reconsider.
He'll continue in piano lessons once a week with daily 20-30 minute practice.
Exercise will be on his list, also – he likes to ride his bike or walk around the block with his brother.
Digital Checklist
Like Hans, Jaeger's checklist will be in Trello, unless it turns out for whatever reason not to work for us. We'll start off trying it out.
But I think that will be a whole post on its own, once we've experimented a few weeks and figured it out. :)
If you're homeschool planning also, make sure to check this resource out!
While the school year is still fresh in your mind and in front of your attention, do a thorough homeschool-related brain dump.
I call it a Homeschool Audit.
It will make your summer break more refreshing.
It will make your next school year better.
If we can set those up with intention, we will have better, more satisfying, less draining homeschool days.