Wow. Somehow the years have added up and we're at seventh grade. Crazy times.
Sixth is the beginning of middle school, but last year it seemed best to keep on keepin' on with the way we'd been doing things. Now we're at 7th and it is time to change things up and move this budding young man up a notch.
There's always room and time to tweak as we go based on how long this work actually ends up taking and how well he does with more independence. When we have conversations weekly, we'll talk not only about what he's read but also what he thinks about his load. Of course, I don't doubt I'll hear about it at unappointed times if he has a problem with it.
Math
Some think Math-U-See is less rigorous or less adequate for upper math, but Hans is doing well with it. After several years of being a book or two down from his grade level, these last two years something has clicked and he's completed 3 1/2 books in two years so that he ended last school year in the tenth lesson of Pre-Algebra. So, my current plan is to stick with Math-U-See through 8th grade at least and then reevaluate for high school. I have Algebra and Geometry on hand for him, just in case he starts flying. These are the new editions of Math-U-See with the "honors" pages, which seem to have problems that require figuring out what operations are necessary and then using multiple operations to get to the answer. So I am requiring he do one honors page a week. I will be adding the honors page from a previous lesson on his clipboard at the beginning of the week and it is an additional sheet to be turned in by the end of the week, but he can work on it in little bits or tackle it on a day where his other math turned out to be easy – his choice so long as it's complete by Friday.
I do check his math every day and he has to work his assignment until he has 100% – that's the way we do it. And he shows his work on a separate graph paper sheet to help him keep his work neat and his numbers lined up.
He's passed all the levels of xtramath, but I'll be giving him a drill page at least three days a week to help keep him practiced in those basic operations that will make doing Algebra so much smoother.
Writing & Grammar
Hans' writing is tied to his reading this year, plus he'll write a few 5+ paragraph papers over the course of the year. His paragraphs will all need topic sentences, conclusion sentences, and strong word choice, though they are simply written narrations. He'll turn them in weekly, I'll give him feedback, and he'll have to revise them before he's through – first drafts are never final drafts. It's one of the blessings of having your mother be a writing tutor and editor. Writing is one of his strengths, though, so this will not be a hardship – though I'm sure there will still be plenty of complaining along the way.
He types his composition – it makes revision much more palatable. Two years ago he did touch-typing practice, but last year typing his compositions was all his practice. I observed that his speed and accuracy could use some improvement, so he has typing practice on his checklist and once a week during our meetings I'm going to administer a speed test (I'll use 10fastfingers – my speed is 82 with 100% accuracy, but Matt's is 112 and I remember as a child my mom bragging about her 100 WPM, so I'll be working to improve my score, too) and we'll see if he can get his speed up; last time he took it he had 22 WPM. I think handwriting and cursive are important, but I also think touch typing skills are vital as well.
For grammar, we'll be using The Mother Tongue and planning to take two years to go through it – that means about 2 lessons a week. We'll be meeting once a week with at least two other friends to go over it, so I'll be assigning the three students to read the next two chapters and do most of the exercises on their own – they'll each have their own copy of Workbook 1. Then when we get together, I'll field questions, we'll all self-check verbally and talk through any mistakes, then do a few more exercises together or they will bring a "stump the teacher" sentence that they found in their writing for me to diagram – I think modeling the thought-process behind diagramming is a great way to teach grammar, and I'll make them do a little bit of it, too.
Latin
Hans left off last year in Latin Primer B lesson 18, so we'll spend a couple weeks reviewing and then move on ahead from there. I have LFC Primer C on hand for him to move into when he completes B.
And, for fun, I bought some extra Latin supplements. At least once a week Hans will read some Latin aloud and then orally translate. Latin for Children comes with readers for this purpose, but I bought some extra Latin-reading material so we can switch things up and to perhaps inspire extra-curricular Latin reading also. After all, if the goal of Latin study is to read Latin, we should have some books in Latin to read, don't you think?
We will also be doing extra Latin composition, translation, and parsing to solidify the skills using the practice pages I made, which you can download for your own use, too, if you'd like:
Literature & Reading
Our theme for 7th grade is Ancients, so my literature picks correspond with that. I have always had Omnibus I in the back of my mind as what I'm aiming for, and now here we are and I have to actually decide if we're doing Omnibus or my own thing. To the surprise of no one, I chose my own thing. But I bought Omnibus I as a reference anyway. Hans will be welcome to read it if he would like or if he has a particular interest. But rather than work through it as a spine, I've selected The Odyssey and The Aeneid as our primary literature selections for the whole year. I've read them more than once already myself and taught them before, too, to 7th-9th graders.
He'll read one "Book" (chapter) a week, and that will take us all year, first Odyssey and then Aeneid. He'll read it, then copy one quote from the book into his commonplace and illustrate it, so he'll have his own mini illustrated versions when we're done. He loves to draw, so the drawing portion is to make this an enjoyable assignment, not to add busy work. Once a week we'll have a one-on-one "Colloquy" (conversation) time, and we'll focus on the themes of civilization ("What does it mean to be civilized?") and leadership ("What does it mean to be a leader?") through both books.
As a teacher resource, I also highly recommend Peter Leithart's guide, Heroes of the City of Man.
Then I also made him an assigned reading list per term. This is the first assigned reading I've given.
My goal is to help keep him in books, suggest books he might not pick out on his own, and keep his reading varied and well-rounded. He doesn't have to do anything with these, but I anticipate there will be informal conversation during dinner and in the car. I built this list from our shelves, Ambleside Online years 6 & 7, and Omnibus I. There are six books per term (6 terms). This reading is for outside of school hours – something to guide his quiet time or bedtime reading – but not something he can choose to pick up before lunch while there's still math, piano, and other work to be done.
I have spent this work to line all this out, anticipating this will be our Winckler Family Seventh Grade syllabus. So I've organized all this to be ready and handy to reprint in two years when it is Jaeger's turn, and on down the line. In 7th grade the student will jump out of the family group cycle and into Ancient – into his own studies. So in two years, Hans will be in his own Modern studies, Jaeger will be in Ancient, and the elementary group at that time (Ilse & Knox) will be in Modern.
Hans will also join Elementary Group Lessons for our Shakespeare or Plutarch study.
Grammar of Poetry
Don't take Brandy's word for it that this is a great curriculum. Watch the videos for it. If that doesn't sell you, I don't know what will. I bought these at the Canon Press table at a conference I was at earlier this year, straight from the hands of the homeschool mom in the promo video. That was fun. I did buy the video bundle even though I'm an English major and I know a trope from a trochaic foot. With a video instructor the lessons can happen even when I'm not mentally geared up to teach and even if I have to go deal with a toddler instead. Plus, I think there's something invaluable in having a man teach poetry. Matt Whitling has his own slug of boys, knows how to communicate clearly to them, and knows and loves poetry. $100 is inexpensive for a single outsourced class, but divided by my 5 students who can all use it in their turn, it's hardly anything. Plus, a couple friends will be watching and doing this with Hans, too. By the time we're done with it, price per student will be in the single digits (for the DVDs, but excepting a workbook for each student, of course).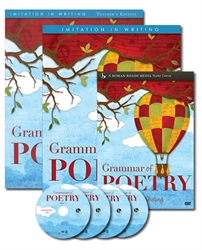 Logic
Our little group meeting to do English Grammar & Grammar of Poetry once a week will also be doing Art of Argument.
Again, I bought the full bundle with the video lessons, so I will be the logistics director and facilitator, but I don't have to gin up the energy to teach. I could teach it, but $100 is a small price to pay to not have to prepare and present (x5 or ÷5, depending on how you look at it – and I actually bought it at 20% off during a CAP sale in March). I like outsourcing to recorded male teachers for my primarily-boy family and I like having teachers who bring pep and jokes again and again, even if you repeat the lesson because you weren't paying attention or forgot (these recorded teachers never get exasperated by you asking them to repeat themselves!).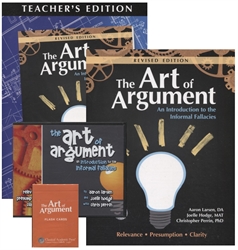 Bible
Of course our 2015-2016 Morning Time Plan is focused primarily on Scripture and learning about & worshipping God, so that is the primary religious instruction in our day, and Hans will participate fully in all of Morning Time with us. He will also join Elementary Group Lessons for our 20-minute 2x/week study through the Heidelberg.
For his own independent work, he will work through reading through, studying through, the entire Bible with the help of Starr Meade's The Greatest Thing You'll Ever Study. This slim four-volume workbook series takes a student through the Bible, section by section. It's not broken down by days or lessons or equally portioned out bits, but takes its cues from the section of Scripture. So I have no idea how long it will take Hans to work through it. On his weekly checklist, each day he has "Bible study, 30 minutes" listed. He'll do the next thing in the book, whether that's reading only or answering questions or both together, with a timer, and leave his bookmark where he left off at the end of 30 minutes. I'm estimating this curriculum will last us two years, but we'll see how it works in practice. I just know I want him to read through the Bible on his own, with an aid for comprehension and seeing the themes.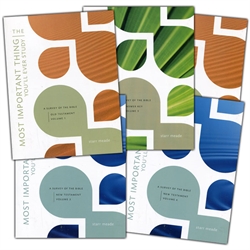 If you're looking for something flashy or "fun," look somewhere else. Meade isn't interested in keeping students entertained, nor does she feel the need to include illustrations, sidebars, or any other distractions. Instead, she provides Bible passages and questions, along with some text to help students understand what they're reading. […] There isn't much like this available. It is essential the Christians know their Bibles, though it's also universally acknowledged that such understanding and familiarity takes work and guidance. Meade undertakes students to navigate the often complex narrative of Scripture with a minimum of frustration and confusion.
History
I agonized over history book selection from February through April, partly because he's already read many of the books recommended for his age and I didn't really know what else was out there. I settled on three books from the Oxford University Press series:
Yes, they are a little textbooky – they do have callouts and photos and definitions in the side. But they still read very smoothly and are written by single authors. The chapters are short and he'll be assigned two chapters per week, writing one paragraph on what he read per week, also.
They are also written from a secular perspective, which isn't too overt or troubling in what I've read so far (I'm halfway through The Ancient Near Eastern World. I am simply going to put him on the alert and see if he can tell me when he finds a clue about their worldview, and then we can discuss it. For example, one sidebar talks about life expectancy and ends with old people exaggerating their ages because birth records were not kept, "Perhaps this is where the myths came from of people in ancient times living to be hundreds of years old." I don't think that's offensive, so long as we distinguish that the early people written of in Genesis really did live to be hundreds of years old and are not to be lumped together with ancient myths that are unreliable (which there are).
In addition to those books as our spine, he'll also read Herodotus for Boys and Girls – one chapter per week. I picked this up two years ago from a friend who was finished homeschooling, and this seemed like the opportune time to get it into use. I am currently listening to the full Herodotus on audio, and I think Hans will like it. He'll also write a single paragraph summary each week.
He also has a Book of Centuries which he will begin keeping this year and keep through the rest of his homeschool career. He saw me starting mine while I was prereading his books and is itching to begin. I bought him his own set of Sharpie pens for the project, too.
Science
For the entire year, Hans will read through The Story of Science: Aristotle Leads the Way by Joy Hakim. Again, it does have callouts and sidebars and such distractions that mark it as a textbook, but the text still reads like a narrative, telling of scientific discoveries starting with the ancient world and moving on until Roger Bacon. I like an emphasis on the history of science as we learn about the concepts, because I think it instructs us that we shouldn't presume too much about current knowledge – what we know now is very recent. There's no real reason to think that more breakthroughs that will totally redefine what we think we know now are impossible.
I think he will also want to be a part of our Anatomy portion of Elementary Lessons, which he will be welcome to join if he doesn't need that time to do his other work.
He will also do nature journalling independently once a week as I wrote about before, but I will likely give him the option of walking or riding up to the Master Gardeners' Demonstration Garden that's half a mile away, too.
He's kept the same natural journal for a couple years now, and he gets to start fresh this year with a new sketch book for his upper years, plus I've finally upgraded him to Prismacolor colored pencils. My fingers are crossed. I am skeptical that he can keep them well, but it's time to take the risk – he is also old enough and responsible enough to pay for his own replacements should that become necessary.
Organizing his stuff
And here is my Course of Study for him:
Here is the bin I have set up for him with all his books (except his Latin, which I have in a separate bin because we'll all work on that together):
Here is his checklist:
You can click this to see the full pdf – the image isn't very legible.

He gets more say over what he does when this year. Instead of there being only "daily" tasks, where I assign different subjects to different days, half of his work is now assigned "weekly" and he can decide whether to do it all early, save it until last minute, do one segment a day and plug along, or whatever other arrangement he concocts.
I fully anticipate there will be a learning curve as he learns what patterns of work do and do not work. That is an important skill in itself, and I'm ok with holding the line and having him finish his work on Saturday if he underestimated his time or work load or thought procrastination would work for him. I'll still be checking in with him daily so I can perhaps point out to him that procrastination isn't the wisest course or that work crammed into Monday so he can have it easy the rest of the week might not result in quality work. But self-direction is a huge skill, and the more he makes those mistakes and learns those lessons now, the better for him later.
What's on his clipboard:
weekly checklist (above)
monthly planner of his own to keep
term reading list
Find out more about our upcoming school year at this index post: 2015-2016 School Year Overview.