It's so much fun to write and read about new homeschool plans in June, July, and August.
But what happens to those plans come November, February, and April?
I've never had a year where all my fresh summer plans work out and are still humming along as-written in the last term of the year. That's just the reality. Sometimes a program isn't the right fit. Sometimes the needs or abilities were misjudged. Sometimes life shifts dramatically midyear.
As far as life events and energy levels go, this has been a fairly consistent year, but that doesn't mean my plans have all panned out. I thought I'd share our hits and misses from our 2015-2016 school plans, because sometimes we need that reality check: it might not work out the way you think it will.
Miss #1: 7th grade reading list
So I created an ambitious 36 book reading list for seventh grade over the summer and the list had many more misses than hits. I overshot not only the amount but also the level – not surprisingly.
However, I never presented the list to Hans as a "you must read these books" list, but rather as a "I got these books I thought you might like – let me know what you think." So it was never my intention to make him read all the books, instead I was trying to prepare to make sure I did have reading material to offer him – he has always been difficult to keep in books.
This year, though, he preferred to turn to re-reading and re-listening to his favorite novels during his down time rather than read something new, especially something challenging. That's ok. He did a lot of physical growing this year, and I think he needed the comfort of familiar stories to turn to.
Next time around, I will keep the book list to myself and merely use it to offer suggestions during our weekly meeting if it seems like some new reading material is needed or wanted. I don't regret putting in the work of pulling together more good books to have for them, and I'm sure eventually they'll all be read.
This one isn't a total miss – we're still using it and it's ok – but I don't think I'll be reusing it unless I want help pulling out example sentences or definitions when I teach grammar ad-lib.
Too many of the sentences are old-fashioned, which simply complicates matters unnecessarily when trying to figure out parts of speech and parts of sentences. I don't believe in being King Jamesy just for the sake of being old school – it's not automatically better. And I don't believe it's necessary to analyze English with all the same categories Latin has. Latin doesn't have to define grammar for non-Latin languages (like English). That is the old school approach, and the approach of this text, and I don't think we need to learn the "vocative case" for English (it doesn't have one). The definitions and examples in the lessons were not readily comprehensible to my students (I'm using this to teach 6 6th-8th graders), even the ones who have had grammar before and can diagram sentences. So I still had to teach, presenting the material myself rather than just answer questions and practicing with them like I thought I'd do.
The only thing it has provided is a faster way to assign and grade homework, but even then, there are way too many exercises. I assign only 1/2-1/3 of them.
Plus, the two-book option (instruction + workbook, but the instruction book has the workbook examples, just without enough room to do them) is cumbersome and confusing.
We'll finish out the year with it, but after this year, it will become a reference-only book on our shelf. I would not recommend this book to anyone not familiar with grammar already. Grammar really doesn't have to be this hard.
This one surprised me. I expected I would enjoy it. I did enjoy her The Story of the Middle Ages, which we read aloud two years ago.
But Story of the Ancient World was primarily biblical, Old Testament history, and, it seemed to me, fairly speculative. It presented many "historical facts" that seemed much more like 19th-century attempts to be biblical literalists. I do believe the Old Testament is 100% true history, but I do not believe giving us a historical timetable or record is the point of the Old Testament. It was not updated to call ancient people groups by the names they are known by today, but rather called them by biblical tribal names, leaving me confused as to who we were talking about or whether the people really were descendants of Ham or Shem or Japheth, or if it was a forced and speculative connection. The names of the Pharoahs were also not consistent with other books we've read, so that made it confusing as well.
According to this book, Nimrod is the most important and influential ancient man – every false religion and overbearing ruler was pinned back on him.
I would prefer to get my Old Testament history straight from the Old Testament – and we do – and this book did not do much to broaden our scope of history beyond the Israelites.
And I did not preread and preresearch, so on the fly I just cut large swathes out of what we read.
In the end, we probably read about 1/2 the book, maybe less.
So, instead of skipping the first half of On the Shore of the Great Sea like I thought we would, we just started at the beginning and have been immensely enjoying that title. It, however, begins with Abram and does entirely skip Egypt, so it wouldn't be an entire ancient spine on its own, either.
Now let's talk about the surprising hits.
Hit #1: Grammar of Poetry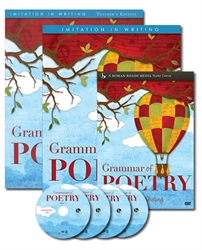 We are using Grammar of Poetry – with the DVD instruction – in my class of 6 middle school students (3 boys and 3 girls). I think it helps to have a male poetry instructor, and he does a good job of presenting the material and walking us through examples.
I like the definition of poetry Matt Whitling opens most lessons with: "Poetry is a language of music and pictures." We're learning the different meters and tropes and getting practice not only noticing the rhythms (which is really what we're doing, not full analysis), but using rhythms and tropes by imitating good poets.
It's a solid program, and one that does not remove the wonder and love from poetry by over-analysis. It's more about giving you a vocabulary to talk about the effects of the poem rather than an analytical approach to poetry.
Brandy wrote positively about this Ambleside selection, I found a less-expensive hardback volume from her link, and I snapped it up. I am so glad I did!
We love this book as our geography read-aloud, even though we all roll our eyes a bit at Mr. Halliburton, the dramatic and daring-do tour guide. Still, his love and wonder is contagious, and his ability to describe scenes without repeating superlatives is unparalleled.
It's a selection for mid- to late-elementary, for sure, as he does not shy away from mentioning that human sacrifices occurred at ancient sites or that families were buried alive when Vesuvius destroyed Pompeii. And, for Halliburton, there is no "mentioning" that is not full of pathos.
We're reading two chapters a week from Halliburton, and will continue reading it through most of next school year also before we're finished. I have an Evernote lesson plan for this that includes links to images of each site. I'd be happy to share that with anyone who emails to ask for it. :)
Hit #3: Anne White's Plutarch Guide
I didn't think we'd be able to fit in both Shakespeare and Plutarch into our twice-weekly Elementary Lessons, but most weeks we can manage it. Using Anne White's guide and selections, it only takes about 10 minutes to read and discuss. It's been a good choice to start getting the 10+ crowd practiced in discussion, and the question to discuss and a few prompts or points are given right there, along with the memory-jogging introduction for each reading.
It's simple to pick up and open-and-go, and also contains zero fluff or extra, which means it's easy to just do it and not procrastinate. I don't have her new book versions. I simply saved the Ambleside plain-text versions into Evernote. Some of the selections had the Plutarch text in the lesson and some did not, so where it did not, I cut and paste the recommended version into the Evernote note. The book form would be handy.
I wasn't sure whether or not we'd continue to do Plutarch after this year, our year in ancient history, but I think we will. The short lessons have been little springboards to get them thinking about politics, morality, ethics, and prudence, without being abstract and without being too complicated or close-to-home.
How about you? What were your hits and misses this year?